About Us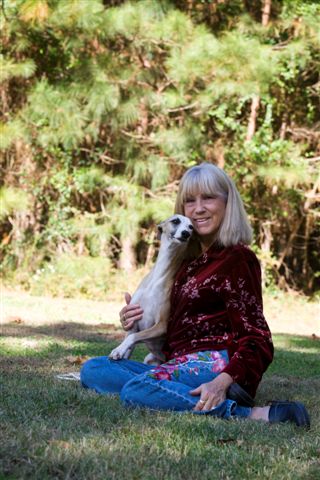 Photo by Katie Rudolph/Festiva Photography
My name is Yvonne Sovereign and I have been showing and breeding Whippets since 1986 using the kennel prefix Sowagla. I began Sowagla Whippets in North Fort Myers Florida and now reside in beautiful Sanford, North Carolina.
I actually began showing dogs in the late 70's with German Shepherd Dogs and as much as I liked GSD's, my first one had been a gift and I really didn't feel that they were "me". What I wanted was a Whippet and so I got my first, Winemall Largo of Sovereign. Largo was a wonderful companion but didn't turn out to be show quality. So next I purchased a bitch from Azalea Hill's kennel in Gainesville, FL; Azalea Hill's Neptune. I  had a lot of fun showing Neptune, and began what has become a lifelong obsession with Whippets!
My first Champion was CH Winemall Tangled Up In Blue and my first home bred Champion was CH Sowagla Hang Fire. Fire's first big win was one of my most exciting ever. He was WD, BOW and BOB for a 5 point major at an AWC supported entry in Clearwater, FL at their 50th anniversary show under long time breeder judge the late Dr. Charles Billings. Fire produced a strong dog line and I still have his decendants.
 I love puppies and I love striving to produce what pleases my eye and conforms to the Whippet standard. Of utmost importance to my breeding program is temperament as the majority of my pups go to pet homes. I do not "special" champions on a regular basis. My goal is to have a nice line of beautiful, healthy and happy dogs that I can have fun showing and finishing and that grace my home as well as the homes of other Whippet lovers.
I am a long time member of the American Whippet Club and spent many years as a volunteer for WRAP, Whippet Rescue and Placement. I feel very fortunate to have made many lasting friendships through dogs, dog shows and through Whippets in particular.