Sowagla Whippets
Yvonne Sovereign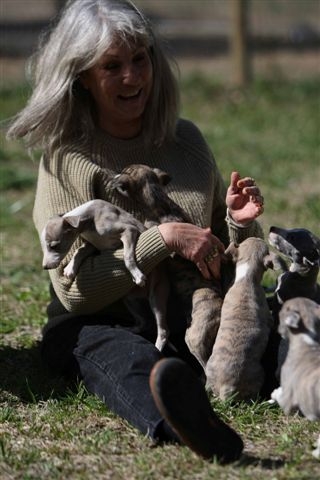 If you are considering a purchase of a Sovereign Whippet puppy, I have a standard application for you to complete and return by email. This will help me get to know you better and help me select the puppy that would best fit your family and lifestyle. Email me at 
canineart@windstream.net
 for a copy of the application.
       All my Whippets and litters are registered with AKC and each pup comes with a registration certificate or a registration application as well as a full pedigree showing heritage. Each also comes with a puppy packet containing Whippet information, training information, a couple days supply of food and a martingale collar/lead. Each puppy will have been on a regular de-worming and vaccination schedule.
      I breed to the Whippet Standard which is the written blueprint approved by the American Whippet Club and the American Kennel Club. I strive to produce Whippets that are not only beautiful, but sound in mind and body. I consider of utmost importance the health of my dogs. Therefore my breeding stock is health tested for eyes, hearing and heart.
      Early socialization for my puppies is important in their development so I start them early learning new experiences, exploring the yard and house, going up and down steps and meeting people and other dogs. They are raised with love and devotion so I can offer a Whippet that in turn will be loved and cherished in a forever home. I also provide mentoring for the life of your Whippet. You can call me anytime with questions and for advice.
      All my pet/companion pups go on a limited registration and show potential pups go with a full registration. The limited registration allows you to compete in any AKC venue except conformation. I also require that compaion/pet pups be spayed or neutered at around one year of age. The show prospect puppies that go on to compete in the conformation ring must not be spayed or neutered to compete.
Pricing is based on current local prices for whippet puppies and is $1800-2500. I ask that you pay a $300 deposit to hold your puppy. All pups have received the same care, time and love as well as vaccines, de-wormings and vet checks, whether they are show potential or companions. An older pup that has stayed here longer and pups that are show potential and trained will be priced higher.
      In my contract, I offer three business days for you to have your puppy checked by your veterinarian. If for some reason you are not satisfied with the puppy it may be returned for full refund within the three day period.
     Another important part of owning a Sovereign Whippet is my assurance that if your life circumstances change and for some reason you can no longer keep your pet, I will take it back at any age.
     If you have any questions regarding me or my dogs, contact me and I will be pleased to address them.
Here are a few photos from past litters.